Backed by personal support and over 40 years of experience to help you sweep away the competition
Huge demand means huge annual sales potential, proven by existing franchises
Once established, you could earn six figures per year with our proven model
Over time, you can build a valuable asset and sell your business for a significant sum
Looking for a proven business model that has the potential to change your life forever?
Congratulations you have just found it!
Poppies is a tried, tested, proven, successful franchise with a 40-year history.
– Top100 Franchise recognised by Elite Franchises
– Full BFA Member
– Our Founder Received an MBE For Services To Domestic Care
Put yourself in control of your life, income and future
Ensuring a clean and hygienic home has never been higher on our agendas than it is now – but people also want to make the most of their time by spending it with friends and family, rather than a mop and bucket.
And that means: opportunity.
With cleaning services in demand like never before, high-quality operators are capitalising. This is a management franchise for ambitious people with the vision, determination and passion to lead a team and deliver the best customer service.
If that sounds like you, explore what a Poppies domestic cleaning franchise can offer to help you freshen up your future.
Start from home, open an office as you grow
Employed cleaners means higher standards of care
Enjoy a regular, recurring and stable income
Lucrative, cash flow-positive business
Trusted brand, established for more than 40 years
Poppies is probably the best cleaning franchise available right now.

If you are looking for a business opportunity with exceptional profit potential we are delighted to bring to you an opportunity that could tick all your boxes.
Rob Piper is just one of the many brilliant Poppies owners who have built a business to be proud of with our tailored support. See what inspired him to take control of his future and his income after being made redundant, which led to him building up his Poppies cleaning franchise over the past 10 years.
"Poppies is a tried, tested, proven, successful franchise with a 40-year history."
You could be running your own Poppies business in just a few months.
Take your first step today...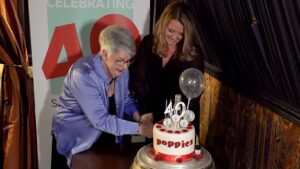 As the Poppies franchise network gathered for its first face-to-face franchise conference since the pandemic, there was an added element of celebration in the air.
Read More »
In the ever-changing business landscape, longevity and consistency speak volumes about a brand's credibility. Poppies, a leading name in the UK's cleaning franchise sector, has
Read More »
The term 'management franchisee' is used a lot in the franchise industry, but what does it really look like in practice? As a management franchisee,
Read More »